July 2018 – 3rd Annual Ugly Bathroom Contest
The top three entries with the most votes will receive $2,000; $500; and $250 of store-credit to remodel their bathroom. We are also adding a Creative Writing Award this year and our favorite entry will receive $100 of store-credit to help update their bathroom. Click below to enter and vote, but before you do, read about our past winners!

---
Creative Writing Inspiration:
We get a kick out of reading through all of the entries. This year a board of employees will choose their favorite to win $100 store credit! Here are a few of our favorites from the past…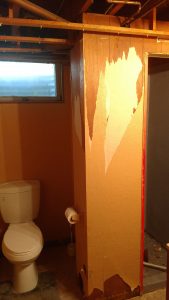 Title: My Inside Outhouse
By: A 1st time homeowner:)
Ceiling why did you fall?
Fixing the leak did nothing at all
Copper pipes now rein their ugly rage
While the bathroom walls seal the ugliness in a plywood cage
Shower walls covered with water-resistant paint
Oh! the very thought of using of that shower makes me want to faint.
My inside outhouse is far from quaint!
Floor why do enjoy the 80s?
Is it because you cover the realm of Hades?
Maybe someday your ugliness will fade
My hopes is that others will engage in a worthy brigade
To stand against a un-picturesque bathroom mosaic
Dedicated: to anyone that sympathizes with people who own a bathroom shower with plywood walls covered in water-based paint.
-Keyshuna L.
---
This ugly bathroom is situated in the breezy open. The partial makeshift wall you see is an old blue tarp. It's always a rush wondering who might join the party! Not to mention the creepy space next to the toilet. What was that!? Better go quick, no clue what might be lurking in there! Silver lining: there's nobody spending time surfing the web while you are dancing outside the non-existent door! That charming cement slab in the bottom of the picture is the shower. Long day at work? Step into the shower that's held up by string and stand on the hard, cold floor. Your dirty water drains out through the white pipe on the floor. Thus, making a wet, filthy mess all over the "bathroom." You always get that extra clean feeling after a shower when you have to mop the floor, right? Maybe another shower will help? Don't fret, there is a little fun in this place: the shower curtain is hung on a hula hoop!
If this doesn't sound like the bathroom of your dreams or you enjoyed this entry, then please vote to make this place a real splash! Thank you!
– Kate F.
2017 Winners
Posted August 2017
We want to thank everyone who participated in our 2nd Annual Ugly Bathroom Contest this year! We had three excellent winners – Doug, Alyssa, and Kenette, who entered, gathered votes, and came away as winners! We love having the opportunity to help others create a safer and more functional bathroom for their family!
---
Our $2,000 grand prize winner, Doug, submitted this entry into our contest: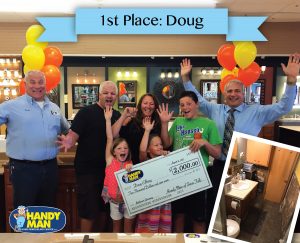 We have a family of 5 using this tiny bathroom.  We removed the tile from the wall but the glue is so thick we cannot easily cover it.  It would be great to redo the walls and add a bathtub for my children.  At this time we only have a shower.  The vanity is small and out of date and blocks the door from opening all the way. There are three medicine cabinets probably because there is no storage in the bathroom. There is an outdated electric heater, that doesn't work, built into the wall. Finally, there is an odd feature above the sink which looks like a pot-filling faucet for a kitchen.
We'd love to win this contest to do the necessary work to make this small space functional for our family!
---
The 2nd place winner, Alyssa, received $500 to help her update her bathroom.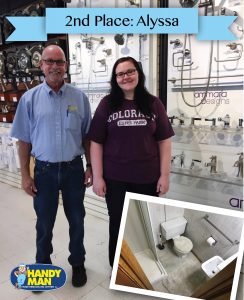 Linoleum walls, leaking shower, ancient cracked toilet, obscenely tiny sink, and a space barely big enough to sit down in. This bathroom needs some major help! I've been saving up to redo this bathroom since I moved into my house 2 years ago but have been hit with a lot of unforeseen costs (surgery for me, surgery for my dog, broken sewer main, etc) that have taken away the bulk of my savings for this project. Being on a single income as a first-time homeowner of an older home, it's been difficult making all the necessary repairs and fixing up this bathroom would be an incredible blessing. In its current state, it's barely usable and you can't even sit down without hitting your legs on either the sink or the linoleum wall. Not to mention (and not visible in the picture) the outside is covered by cheap plastic paneling with the plumbing pipes sticking out of all the walls. The shower is stained and leaks from the bottom, the toilet is huge and the tank is cracked, and the sink is so tiny it's nearly impossible to even wash your hands. The concrete floor is stained and the linoleum ceiling is falling down and yellow with cigarette smoke. This bathroom needs help, and any help I can get in making it usable would be so much appreciated!
---
Kenette took home our 3rd place prize of $250!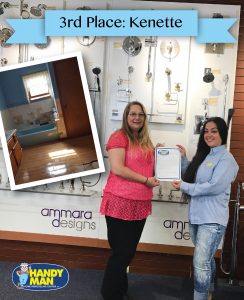 This bathroom is original to the house. The previous owner installed laminate flooring which has rotted due to old toilet overflowing. Some of the flooring has been ripped out due to stink and rotting mold. The tiles on the wall are plastic and falling off. The wall around the tub is rotted as well. I would really like a shower/tub in place of the old tub. I have replaced toilet but had to. It was so embarrassing to have guests hold plunger after going. The toilet would do 1 of 3 things. 1. Flush as normal.  2. Flush but not go down & had to plunger it down. 3. Overflow to where you had to plunge.
Sink water has been shut off due to major leaks. Pipes underneath need replaced. I have had shutoff installed shortly after moving in. There was none & found out the hard way when toilet would not stop running.
I would really like to win this. I have lived with a not so functioning bathroom for almost 10 yrs. 3 of those yrs you could not use the toilet. Had to go to the basement toilet. Forget showers, only baths.
2016 Winner
Posted August 2016
Congratulations to Cassandra Bertwell, the winner of our $2,000 Ugly Bathroom Contest! On Wednesday, August 10th, Handy Man President Joe Swenson and store manager Mike Folsom met Cassandra at our Lincoln store and presented her with her prize.
We look forward to helping Cassandra update her bathroom, pictured below, that received 5,918 votes in 16 days!
Thanks to everyone who participated!
Handy Man President Joe Swenson with winner Cassandra Bertwell and Lincoln store manager Mike Folsom.
"As far as the update goes we got some wonderful things for our bathroom! A new toilet, stunning vanity with a cool waterfall faucet, new shower head, mirror, towel bars, etc! I'm very thankful for the help that the Handy Man Employees at the Lincoln store gave me. Extremely helpful, great advice, and friendly! I had left receiving a hug too." – Cassandra B., Ugly Bathroom Contest Winner 2016