Bathroom lighting can make or break your remodel. Get it done right with the help of your friends at Handy Man!

Handy Man's Mirror and Lighting Displays
Our displays are the best in the entire region!  Finding the right mirror and lights for your bathroom makes a huge difference when you get ready each day. To really get a feel for how your bathroom fixtures will look and and feel in your home, you need to be able to experience the lights and colors for yourself.  Handy Man's displays are at floor level, just like in your home, not mounted high above your head like at the big-box stores.  We offer a wide variety of styles and features to fit your needs.  Come into our store and explore the huge selection of lights, mirrors, and medicine cabinets available at Handy Man.
One-to-one Customer Service
Our staff helps customers select bathroom fixtures everyday and we can be your 'checklist' to help make sure that you end up with the lights and mirrors that match your needs.  Handy Man's staff is friendly and knowledgeable and we like to help our customers select the products that are right for them.  We try to greet every customer that comes through the door and ask them if we can help, but we respect your personal space too, realizing that sometimes you just want to look around on your own.   If we don't have the right answer for your project, we will do our best to help you find it!  Handy Man sells hundreds of lights and mirrors every year, we are your local experts!
New Construction or Remodeling
We will help you with any size project.  Sometimes you're operating with a small budget; we can help you with that. Sometimes you are putting the finishing touch on an large, elegant, formal bathroom, we can help with that too!  At Handy Man, we offer options for any budget, from $89.99 to over $1,000.00 and everywhere in-between. Handy Man will help you find the right look for your bathroom.  We show dozens of display setups for you to visualize different pieces together.  We have dozens of lights, mirrors, and medicine cabinets on display and ready to take home today! Come in and take a look.
You Will Find the Best Value with Us
We purchase our lights and mirrors directly from the manufacturer, giving you the best products at the best price.  In fact, we guarantee to match any local competitor's prices on identical products.  We keep our company on the cutting edge of new products, technologies and current trends.  Handy Man brings in a wide variety of unique lights and mirrors that are ready to pick up when you are.
We Carry Many Name Brands
At Handy Man, we supply our customers with quality name brands with excellent track records.  Lighting companies like Designer's Fountain, and Thomas, to name a few, have supplied our store with reliable products that we are proud to provide to our customers. We have found the best quality and prices with Cordova Lighted Mirrors. You know Bertch medicine cabinets will be reliable in your bathroom for life. We constantly add new stock with features that we know our customers will want to see, such as lighted mirrors, Edison bulb lights, beautiful styling, and lifetime finishes.
Handy Man Provides the Best Installation Solutions
Our Handy Man staff will gladly help you find the best way for you to complete your installation.  Many of our customers will install their new products themselves after a few tips from our in-store experts.  For other customers, the best answer is to hire a licensed professional installer from our approved list of installers and contractors.  Our goal is for you to have a quality bathroom that looks great and functions perfectly.  One that will last for many years.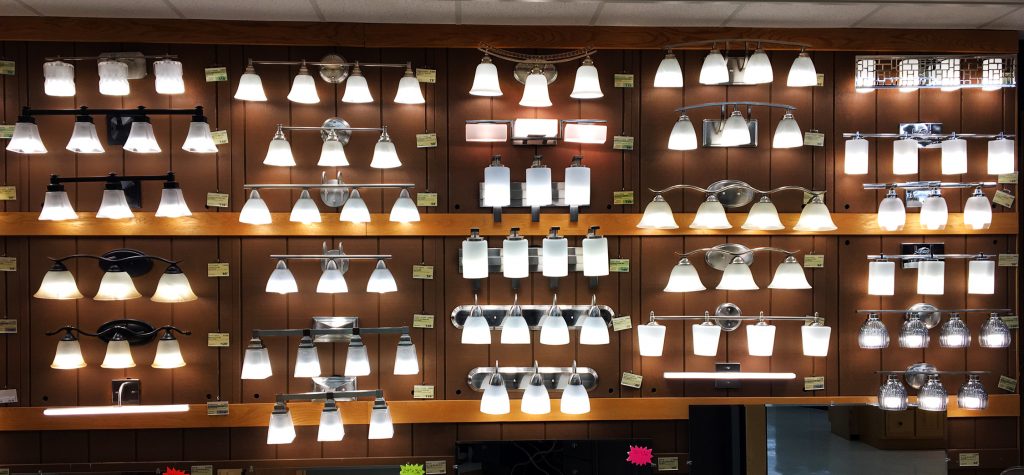 We put our Customers First
We are not a "Big-Box" store. When you visit Handy Man, you can usually park in the front row of our parking lot. We know it can be difficult to schedule time to look at new fixtures for your home. Handy Man is open seven days a week and we stay open until 9:00 PM on weekdays for your convenience. We have dozens of lights, mirrors, and medicine cabinets in stock and available to take home today. (and at Handy Man, our employees will even load them into your car for you!)

Handy Man's History
Our company was founded by our grandfather in 1946 and we have enjoyed helping customers ever since.  The technology and the products have changed over the years, but in the end it is still people helping people.  Please give us an opportunity to serve you – we will surpass your expectations!
Our Guarantee
Things don't always go as planned in a remodeling project. If you are disappointed in how your new fixtures are working in your home, please let us know and we will work on finding a solution that satisfies you. Our goal is to have satisfied customers for life!